ScalarHoney Health Retreat is totally off the grid and the original Garden of Eden experience, situated in the middle of the Tsitsikamma Mountains, access via Langkloof (R62) and the 250 year old quaint town of Twee Riviere. It is situated in a private nature reserve and part of the newly declared UNESCO Garden Route Biosphere Reserve. There is no Wi-Fi nor cellphone connection, but we assure you a better connection with Nature.... here in Heaven on Earth!! An exclusive Jomo ("joy of missing out") site, and not for the people who are addicted to Fomo ("fear of missing out") social media syndrome/phobia.
We have created an rustic eco cabin + a tree house site in the mountains built from natural materials the mountain has to offer including a quartz crystal mosaic floor to cleanse and heal body, mind and soul! We offer a variety of Holistic therapies and products e.g. Tsitsikamma crystal spring water, Scio/Scalar Biofeedback treatments, Body alignment, group meditation, sound/music therapy, Organic Honeybush tea, Fynbossie bath salts and herbal spices. Both sites are self catering and have fully equipped kitchens with a gas fridge/freezer, gas cooker and hot water. Our rustic outdoor cabin is situated on the riverbank with flowing river rapids and a rock pool on your doorstep, the cabin houses a kingsize bed and sleeper couch including linen and towels and sleeps 2 adults and a small child.
The Buchu tree house/tent site is a 250 m hike from the car park at our tennis court and has a king-size bed plus single bed including linen & towels. We offer numerous easy, adventurous and strenuous mountain hikes in the kloof and up to a number of river rapids and waterfalls through fynbos, fern and tree forests. There are many natural swimming ponds to bathe in on the many hikes. Please note we do not have 24/7 Internet and a booking request may take up to 48hrs to confirm. Please contact us via text msg on 0796190981 or 0843747650 should you not reach us on email due to lack of internet connectivity. Directions to our nature reserve are on the R62 (Langkloof, either from George/Oudtshoorn-180km or PE/180km- Humansdorp 90km) Turn off to Twee Riviere town at the large Du Toits apple storage shed /SupaQuick workshop. We are situated 80km by road from Stormsriver/Tsitsikamma village on the N2.
Tariffs subject to seasonal rates.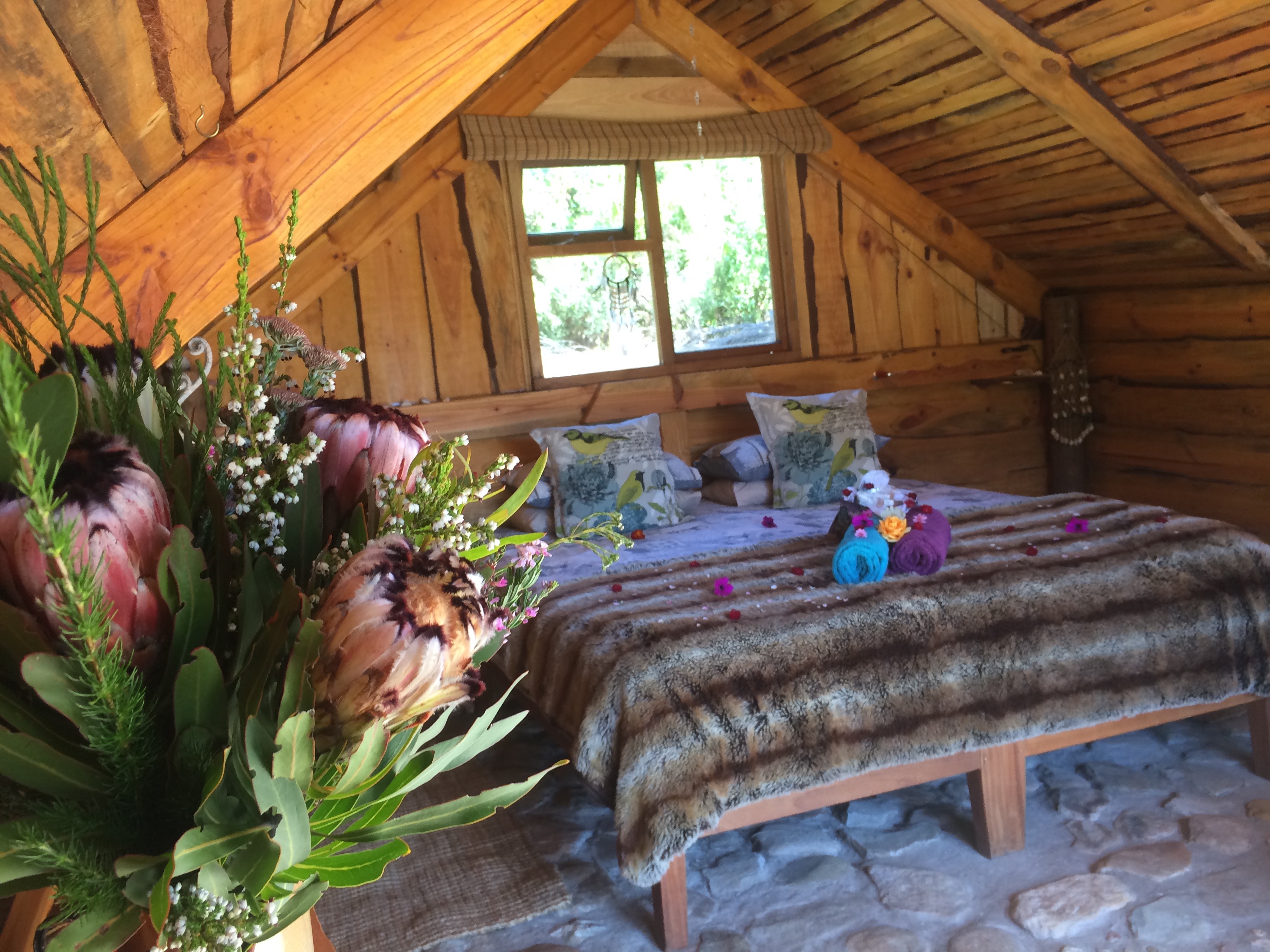 Our communal area plus pool.